New Exhibit at the Sherman and Ruth Weiss Library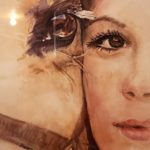 Each quarter, CHARAC sponsors an art show at the Sherman and Ruth Weiss Community Library. This quarter's Art Show was delayed because of the COVID-19 pandemic, but is currently on display through the end of September and the artist is DAWN STUDELBERG, a resident of Hayward, WI.
Dawn Wawracz Stutelberg was born and raised in the the Twin Cities and has lived in Hayward for 18 years. The people who influenced her the most were her mother Joyce and brother Dennis who is an accomplished artist. Dawn spent most of her high school years in art rooms and painted animated characters for children's rooms and libraries.
Dawn identifies as a watercolor artist after painting her first water color in 2017. Her work has been shown at Out of The Woods Winery and Salmagundi Gallery. She is currently working on a collection to raise awareness of endangered species and ocean pollution. The African Sea Turtle and the South American transparent Frogs in the exhibit are both on the endangered list. The purple floral painting was one her mother had begun years ago with acrylics but never finished. Dawn added her own touch of water color to complete it after her mother's death in 2017.
This show is her first public display of most of her work and dedicated to her Mother, Joyce Wawracz.