Patricia MacLaughlin Gallery Invitational CHARAC Members Show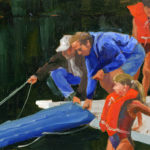 August 5th – October 14th
Dan and Jess and their father, Jim MacLaughlin, have opened Out of the Woods Winery (formerly HookStone Winery) and are creating a unique winery that will feature hand craft wines and specialty items.
Part of their objective is to create a space for artists to exhibit their work.  Their mother, Pat MacLaughlin, was a watercolor painter.  Pat passed away several years ago.  Throughout her struggle with Alzheimer's, she continue her love of painting.  The gallery space was done to honor her and her love for the arts.  The MacLaughlin's have created a stylish atmosphere with a professional hanging and lighting system to enhance the art exhibit.
Curated by Deanna Persson, CHARAC was given the opportunity to highlight works by their member artists.  Stop by to see all of the works and possibly enjoy a glass of wine!!
Click here to see the online gallery created by Out of the Woods Winery!  https://www.outofthewoodswinery.com/patricia-maclaughlin-gallery