A Toast to Art…Holiday Style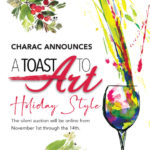 We are requesting donations for an online silent auction which will be held just in time for folks to do their Christmas shopping!  We are looking for donations of any desirable items such as artwork, gifts, services, or experiences.
We need the items by October 15th.  They can be dropped off at Gallery & Gifts, 10529 Dakota Ave, Hayward (M-S, 10-4), or call one of the numbers below to request pickup.  If you plan to donate, we would appreciate a response by October 1st to help with our planning.  Respond by emailing cablehaywardarts@yahoo.com
Call Carol Morness @612-240-3477 or Carol Anderson @217-855-2249 for pickup or if you have questions.
Because of Covid-19, this is our only fundraiser this year!