New Exhibit at the Weiss Library!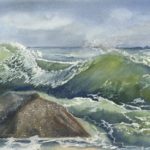 Each quarter, CHARAC sponsors an art show at the Sherman and Ruth Weiss Community Library. This quarter's Art Show features Nancy Schryer and will run through the end of December.
Nancy's work is inspired by Mother Nature as it does most of her artist friends. When she see something beautiful, which happens every day, she studies it,  photographs or sketches it, and takes it back to her studio to paint. She uses a limited palette so that the viewer can appreciate the simplicity of the subject and allow the beauty of the watercolor to show itself. The fun of painting in transparent watercolors is that each layer of paint is allowed to show through. The beauty of watercolor comes through painting layer upon layer of color.
The raw and bold beauty of her surrounding environment inspires her creativity on a daily basis. The river, the woods, the sky, flowers, faces – they all just seem to ask to be painted, Nancy says "I guess it is my way of sharing what I see with others".
During this time of COVID-19, the political environment and the changes this year has brought, she found herself seeking the simple beauty and reality of Nature. She calls this collection "Reflections" in hopes it gives you peace and time to reflect on the natural beauty in our lives.
She uses all archival materials and frames her work according to the Professional Picture Framer's Association guidelines.
Her work can be seen at Art Beat in Hayward, My Villa in Cable and currently on display at Out of the Woods Winery in Hayward ,  and at The Washburn Cultural Center.  She can also be found on Facebook: namekagon arts @nanschryer and can be contacted by calling (715) 558-7237 or via email: nancymschryer@gmail.com.