Check out the Winter Show at the Sherman & Ruth Weiss Community Library!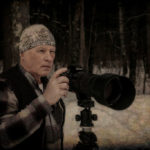 Photographer Paul Ostrum
Paul, who resides in Seely, WI is a photographer whose interest in music and photography began at an early age learning guitar and taking pictures in the northern Wisconsin community of Cumberland. He went on to attend college and Technical School for music, natural resources and photography. Retiring from the U.S. Forest Service in 2012 as a District Fire Management Officer and Fuel's Technician game him more time to pursue his love of photography and the outdoors.
As a descendent of the Birkebeiner Warriors and a member of the Birch Leggings Club, he completed 20 Birkie ski races. He is an active participant in silent sports- cross country skiing, road and mountain biking as well as snowshoeing – which affords him endless new opportunities to capture nature with his photos.
Paul is an FAA certified Drone Pilot.