2021 Art Crawl – August 13, 14, and 15th!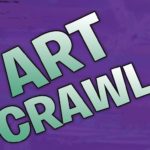 After consultation with artists that had participated in previous Crawls, the CHARAC Board of Directors has made the decision to move forward with the 2021 Art Crawl.  Applications  are being accepted through March 20th.  Fees this year will be $100 for active members and $130 for inactive members.
We will be encouraging wearing of masks by all participants and guests.
With the uncertainty of the pandemic situation, we review moving forward with the event at the end of April prior to printing brochures and posters.