A Toast to Art – Holiday Style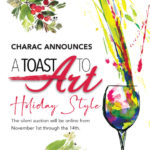 COVID-19 continues to challenge our traditional way of fundraising!
In order to support our scholarships, school grants and community art grants, CHARAC will once again host an Online Auction for this year's Fundraiser.
If you would like to donate something (an event, an item or a service) you may drop it off at Gallery and Gifts at 10529 Dakota Avenue in Hayward. Donations are needed by October 14th so we can have the website ready for the start of the auction on November 1st at 9 a.m.
Questions? Please contact Carol Morness @ 612-240-3477 or Carol Anderson @ 217-855-2249.
To access the auction, go to our website where you'll find the link for the ONLINE AUCTION which will be held from 9am November 1st to 9pm November 14th.
You must register to place a bid. You will be notified by email if you are outbid or if you won your bid(s). There will be a link in the email that allows you to pay via PayPal or credit card. You may also pay by cash or check at time of pick up.