Sherman & Ruth Weiss Library Exhibit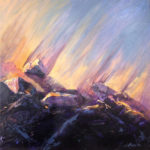 The work of Jean Accola will be featured November 1 through the end of January 2022. The photo is of her acrylic titled "Fall Edge, 6pm" painted at Grenada, W.I.
Jean Accola has been a lifelong artist.  She has painted in watercolor for decades having acquired a strong training in that medium while a student at Wahlert High School, Dubuque IA.  Wildflower studies in watercolor became her forte throughout the 1980's and 90's.  From there she evolved artistically into paintings of other plant forms such as trees and grasses as a favored subject matter.
In the early 2000's she began the study of oil under Holly Swift, Marc Hanson, Derek Davis and others. Plein Air painting primarily in northern Wisconsin has brought annual creative inspiration.
The medium of acrylic, a painting material that allowed Accola to travel and paint large scale works continues. Liquid acrylics as well as the traditional full body paint, brought about the marriage of watercolor and oil techniques in one convenient medium.
Travelling annually to other countries since 1999, Accola was influenced by the arts and crafts of other cultures which she documented in paintings, drawings and handmade travel books. She has also begun to create textile paintings using her imagery, incorporating applique, embroidery and other handwork.
Accola operated the Accola Gallery in Durand WI from 1985 to 2020. She has moved to Stone Lake, WI where she continues to paint and create.  She is married to Yata Peinovich, a singer songwriter.  They have two children and five grandchildren, who think banana bread is her greatest creation.